The history of Aveley Lodge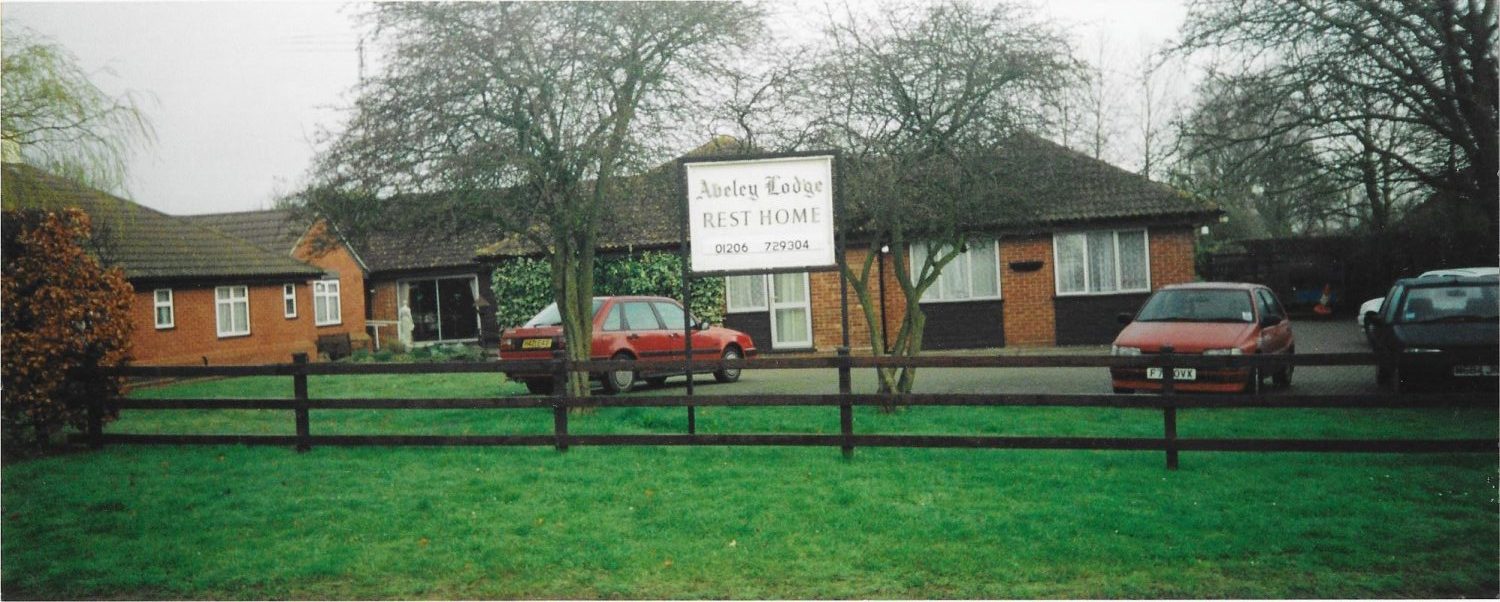 Aveley Lodge Care Home, previously known as Aveley Lodge Retirement Home, was born out of an idea by original owner Robin Parmenter and his neighbour, Dr Tony Snell. Robin, an NHS mental health charge nurse at the time, helped Tony to convert, adapt, decorate and refit Tony's old three bedroomed bungalow to create an 8-bedroom home designed specifically for caring for the elderly in what they hoped would be a home from home environment.
On 25th July 1989, the Major of Colchester, Dr Sanderson, officially opened Aveley Lodge which was registered to take up to 12 long term residents, with some sharing bedrooms. Robin not only owned, ran and carried out remedial work at Aveley Lodge but he also helped out with care work and work in the kitchen all the while still working as a charge nurse right up until 1996 when he retired from the NHS!
In 1995, due to demand, the first extension was added which meant residents no longer had to share bedrooms either. This also included the reception area you see today and included six extra bedrooms, a staff room, dining room and extra sitting room. In 1999, the right wing was added creating a further four bedrooms, a communal bathroom and sitting area. The 1990's was a tough financial time for a lot of businesses, but Aveley lodge managed to keep going. Unfortunately, with tougher restrictions and regulations being placed upon the care industry at that time, meant Robin found it harder to keep the business running solely by himself.
In 2006, Robin's son Michael and daughter Deborah took over the ownership and day to day running of Aveley Lodge whilst Robin became a silent partner. Michael was appointed the Registered Care Home Manager too. Working at Aveley Lodge was nothing new to Michael. Since the age of 11, Michael had often spent the majority of his evenings and weekends helping his dad by cutting the grass and keeping the home and its grounds tidy. From the age of 18, Michael helped out with care work and would help Robin build, maintain and decorate the home as well as learning about bookkeeping and payroll. He would also help out with domestic chores and the administration side although he never did the cooking! Michael also introduced new job roles employing a full-time activities coordinator, experienced domestics, professional chefs, admin staff and more qualified and experienced senior care assistants.
In 2010, Aveley Lodge underwent a huge refurbishment of the kitchen, extending, modernising and bringing it up to the standards required for today's strict food hygiene environment. This included a specific washing up area and huge food storage area. At the same time, Suzanne Parmenter, Michael's wife, left her highly pressurised legal job and joined Aveley Lodge to support Michael and Deborah as a domestic and care worker before climbing her way up the ladder to HR Manager then subsequently, PR Manager. In 2016, Deborah's son Jake joined the family business as a Care Assistant and enjoyed his time with us before leaving for University to study Business and Finance. In 2019, Deborah's daughter Madeline also joined the team as an Activities Assistant, a role she enjoyed immensely too before leaving for a career in charity work.
In 2014, the biggest project in Aveley's history to date took place which saw a huge extension placed on the rear of the property to create five extra bedrooms with en-suite facilities, 2 sitting rooms, a new dining room and a specific laundry room. This also included a multi-million pound refurbishment of the entire home including a designated medication room, new staff room, a redesigned car park, a new fire alarm and nurse call bell system and also brand new carpets and flooring throughout. It was at this time Robin decided to leave the business altogether and bow out of Aveley Lodge after 25 years.
In 2014, the company commissioned a local landscape designer to design a special sensory garden for Aveley's rear garden. In the Summer of 2019, Aveley celebrated its 30th birthday in style by holding a huge colourful garden party and afternoon tea for all staff, residents and their families, past and present, to enjoy.  In 2021, Aveley Lodge was extended even further to provide our top-class service to even more people.
Aveley Lodge has not just been a home for the elderly, it has had its fair share of pets too! It has housed a couple of cats from Smokey a laid back tabby cat and Champers the Persian cat to the adorable, tiny Katie cat who'd find her way onto any resident's bed if they'd been fortunate enough to have left their bedroom door open! Aveley Lodge also housed Ollie, a rescued Doberman who lived at Aveley and was popular amongst many of the residents. Sadly he passed away in 1992. With stricter policies and regulations now in place, Aveley has been unable to have permanent four-legged friends. In 2017, Donut and Custard, our resident budgies, joined the home and delightfully entertained the residents and visitors on a daily basis but they moved on to pastures new. To date we have some beautiful, colourful tropical fish housed in our huge indoor tank and approximately 60 gold fish and Koi carp in the pond in our front courtyard garden for everyone to enjoy.
Therefore, after three memorable decades, we as a family, are very excited about what the future holds for this successful care home. We will remain true and committed to our key principles and continue to take this home from strength to strength